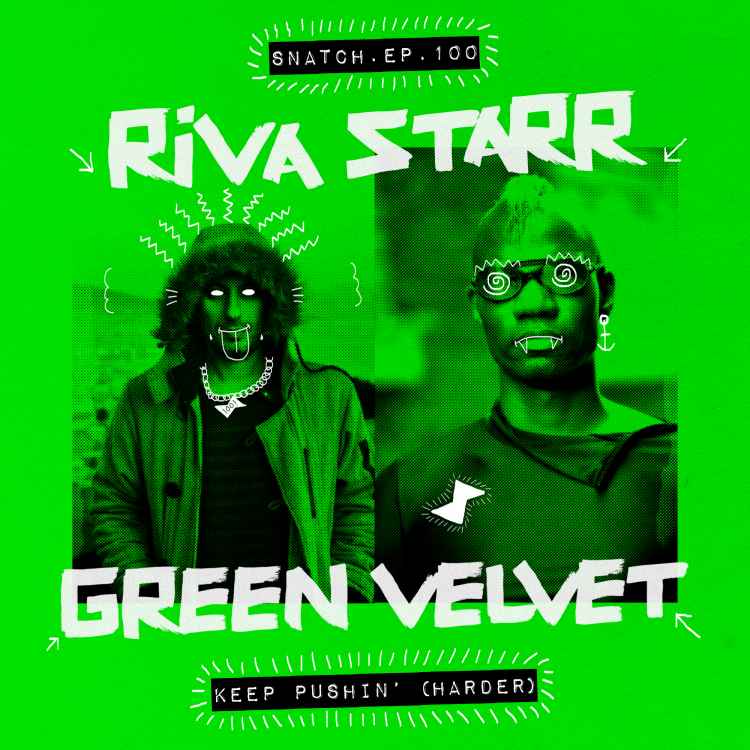 Keep Pushin' (Harder) EP
Artists:

Riva Starr, Green Velvet

Release Date:

17-11-2017

Catalog:

Snatch100
Description
"How mad is it that we've reached our 100th release? Snatch! has been a lab to test our mad ideas and I feel happy that we've helped break a lot of young producers too. It's been a crazy ride so far but it's just the start. There's plenty more music to come, stay tuned!" Riva Starr

On 17th November 2017 House music's acclaimed imprint Snatch! Records will celebrate its landmark 100th release, seeing the label's esteemed head honcho Riva Starr team up with Chicago's most unconventional House hero Green Velvet to deliver an EP well worthy of its billing.

This monumental two-track offering follows yet another year, for the label, at the forefront of credible House music and comprises of two exclusive dancefloor-ready cuts, in the form of the EP's stomping title-track 'Keep Pushin' (Harder)' and the strings-infused Techno groover 'I Feel Good', which both benefit from Velvet's signature spoken vocal lines.

Since its 2010 conception, Snatch! has prided itself on releasing music from a diverse array of talented artists, boasting releases from the likes of; Carl Cox, Groove Armada, Matthias Tanzmann, Skream, Andrea Oliva, Davide Squillace, Santos, Romanthony, Dennis Cruz, wAFF, Richy Ahmed, Darius Syrossian, Francisco Allendes, Adam Port, &ME, Butch and Paolo Martini among others plus Riva Starr himself.